Discover more from Extra Points with Matt Brown
A newsletter on the off-the-field forces that shape college sports
Over 5,000 subscribers
Boise State isn't happy about Boise State maybe not getting special MWC treatment. I am shocked!
Who could have seen this coming, besides Extra Pointers readers and also maybe also everybody else?
Good morning! Thanks for spending part of your day with Extra Points.
Last week, I wrote a newsletter that touched on the potential for conflict between Boise State and the Mountain West Conference. The league should be taking a victory lap right now, celebrating their new TV deal with CBS and Fox, but during the official press conference, conference commissioner Craig Thompson said "this will be the last Boise State separate negotiation for television rights." Boise currently enjoys some extra privileges (and money), privileges they extracted from the league as a condition for them rejoining the league (Boise left for the Big East back in 2011).
I wrote that Boise State, as the most prominent brand in the league, probably wouldn't love the idea of giving up that money, and could potentially leave the league.
And lo and behold, Boise State doesn't love the idea of giving up that money!
If you aren't local to Boise, or terminally online like I am, you might have missed this from Friday. But after most of the national media closed their laptops and left the office, Boise State released an official statement on the whole TV situation, and made it perfectly clear they don't intend to relinquish their ability to negotiate their own football games without a fight.
Here's part of that statement, via KTVB:
"The Mountain West stated that this was the last time our deal would be negotiated separately," the statements reads. "However, Boise State's decision to join the conference was predicated on a number of negotiated provisions, including the right to separately negotiate material terms of media rights relating to our home games. This is stated in our conference agreement and cannot be changed by any vote of the membership or conflicting agreement. We will not support any change to this provision and are in the process of weighing our options to move forward."
"Weighing our options", as best as I can tell, means one of three things.
1), Boise State will complain about this in public but ultimately will do nothing, which seems pretty unlikely. There are plenty of things college athletics leaders like to cry wolf about, but this sort of thing generally isn't one of them.
2) Boise State will sue the conference if they try to alter the current structure. Via KNDO23, here's the relevant clause from Boise State's term sheet with the Mountain West Conference:
Binding Effect. The terms and conditions of this agreement shall bind the MWC regardless of any contrary, conflicting or inconsistent provision of the MWC constitution, articles of incorporation, bylaws, policies ... or any subsequent vote of the conference members.'
An editorial from The Idaho Press describes that clause thusly:
"A three-page term sheet, acquired by the Idaho Press, appears to confirm what we've been told for years: That the BSU-MW deal had no expiration date. It was infinite — Boise State would get more league revenue-sharing cash than the rest of the members. Forever.
That jives with my reading. Here's the entire TV rights passage: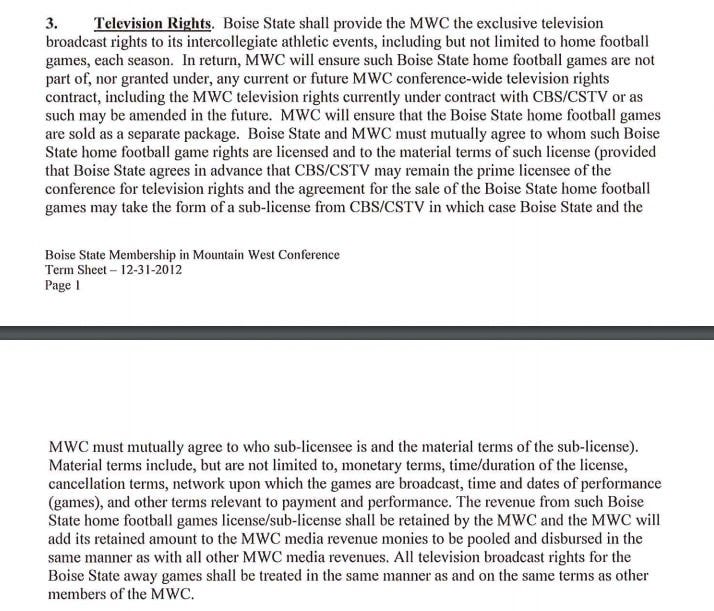 I don't see anything in there about an expiration date, or negotiation protocol for ending that clause, but even though I am a professional sports blogger, I'm not a lawyer. If any lawyers have opinions about Boise's, or the MWC's options here, drop me a line. I'd love to hear from you.
What I do know is that most of the folks who agreed to that deal in 2011 are no longer university leaders of Mountain West institutions, and may be less inclined to respect that previous deal…or at least, are interested to see what a judge thinks about it.
Right now, Boise gets about $1.8 million more than anybody else (except Hawaii, who also has a different, albeit lesser, deal) each season. Is that worth going to the mattresses over, and damaging relationships within the conference even more? I don't know. Maybe! Maybe not.
3) Boise State could leave the MWC.
I wrote about this a bit last week, so I don't want to rehash everything here, but the TL;DR is that right now, I could see Boise potentially being interested in a football-only relationship with the AAC (who just so happens to be down a member),or in going independent.
It's a bit tricky to really handicap this without knowing what happens with the college football playoff. How much does a school like Boise value a New Year's Six Bowl bid, especially if they could theoretically secure multiple home and homes with bigger name P5 opponents in the regular season? If a G5 team was given an automatic bid to an expanded playoff, does that create a strong incentive for good G5 programs to consolidate into one league? Does anybody still have bad blood over this? There's a lot of unresolved details.
I do feel confident projecting that Boise State could make more money as a member of the AAC, over a multiple-year period, than they would in the MWC. Depending on how they scheduled, they might be able to do that as an independent. I think, over the course of an entire schedule, they'd probably face better opponents pursuing either of those options as well.
But money isn't everything. And leaving the MWC creates other challenges, especially logistical ones.
The crazy thing about all of this is how preventable it was
As a writer, one thing I really appreciate about Craig Thompson is that he's willing to be candid. If the league is considering doing something big, like trying to add Gonzaga, or maybe ditching conventional TV altogether, chances are, he's going to tell you about that. It's great for bloggers. Might be less great for school leaders and potential business partners.
But this fight? It didn't have to happen at all! Even if Thompson is under strong pressure from member schools to push for a different Boise arrangement, at the presser, he could have easily said something like, oh, You know, six years is a long time from now, and we're going to continue to have conversations between conference leaders about how future deals will need to be structured, and obviously Boise State will be a part of those conversations. But today is really about this current deal, which honors Boise's previous arrangement.
If you do that, maybe it becomes a Reddit or message board thread for a day or so, but the big story is still about the new TV deal. Now, it's about an argument that may not need to really happen for years! And has the potential to blow up critical relationships across the conference. It sure seems like an Own Goal to me.
Here are a few other tidbits from this term sheet that maybe you might be interested in
For one, the term sheet makes clear that it trumps anything else that might be in the MWC bylaws:

It also makes sure that the league can't tell Boise to wear a different color uniform at home,

And, just as a fun bit of conference realignment history, it's specifically mentioned in this term sheet that the MWC had to invite San Diego State back before they called any other potential institution.

It isn't clear how this ends yet, but it's much bigger than just Boise
Maybe the public response after Boise's statement, and perhaps some additional conversations with broadcast partners, help de escalate this situation before any conference membership is threatened. But if this issue lingers, the implications extend far beyond just Boise.
If you're a Mountain West program, are you okay replacing Boise with a much worse team (like say, UTEP, or New Mexico State), knowing it'd be easier for your program to make a bowl, but much harder to sell tickets? If you're a bigger program in another G5 league, do you think about trying to flex your muscles during the next TV negotiation? What would a MWC program with larger ambitions, like a San Diego State, or Colorado State, do?
If you look at the big, structural issues facing college athletics, there are plenty of bigger stories out there this offseason, from NIL regulations to potential additional lawmaker involvement, to how schools handle sexual assault reporting, concussions, student welfare, and more.
But I'd keep an eye on how this eventually gets resolved as well. Not only could it change the paradigm of what it means to be an FBS independent, or completely revamp the balance of power among G5 leagues, but it might even change how some leagues conduct their next media rights deals at all.
For my money, I still think the MWC needs Boise State football more than Boise State football needs the MWC, and that thinking will inform how a resolution is found.
But we're not playing with my money.
Thanks for reading and supporting Extra Points. If you enjoyed this newsletter, or previous newsletters, please consider subscribing! Those subscriptions make this free newsletter possible. You can subscribe right here:
I am going to try and do another mailbag newsletter soon. If you have questions you'd like answered, have tips, article ideas, angry feedback or more, drop me a line! I'm at MattBrownOhio@Gmail.com, or at @MattBrownEP on Twitter dot com.