Discover more from Extra Points with Matt Brown
A newsletter on the off-the-field forces that shape college sports
Over 5,000 subscribers
Could COVID-19 lead to different *kinds* of football? In Vermont...it might!
Is it even possible to socially distance while playing football? Maaaaaybe?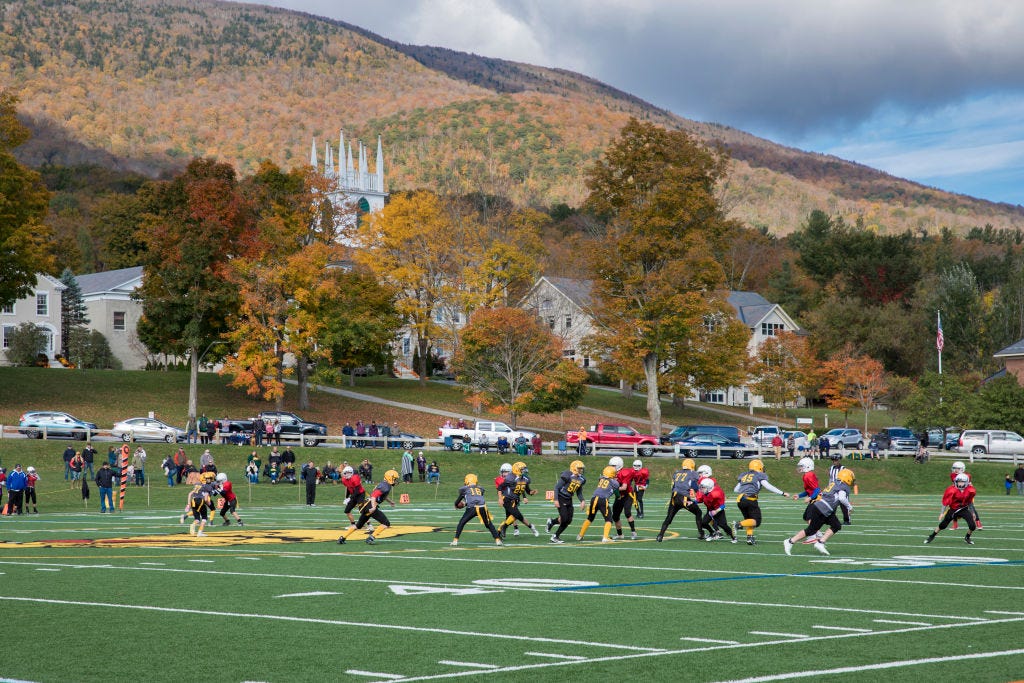 (Photo credit: Getty Images)
Good morning, and thanks for spending part of your day with Extra Points.
Friends, I am excited to announce that we just finished the most successful month in Extra Points history, by far. Free subs, paid subs, readership, merch sales…every metric we track broke records over the last few weeks.
We want to sustain that momentum, especially as we head into a fall that projects to be one of the most important in the history of college athletics.
There are a few ways you can support Extra Points. You can buy some of our awesome and comfortable shirts from our pals at Homefield Apparel. You can buy our handsome stickers for just five bucks. But the best way to support us is with a paid subscription.
Just $7 a month, or $70 for the year, gets you four newsletters a week, plus bonus audio content. If you want to better understand the off-the-field forces that shape all of college athletics, you won't regret that subscription.
I've written over a hundred of these newsletters, several hundred other posts in my career. I've written about big schools, small schools, D-I, D-III and the NAIA. 
But before today, I don't think I've ever written about football in Vermont.
That would make sense. Vermont isn't much of a football hotbed.
In the Recruiting Rankings Era (since 2002), the state of Vermont has never produced a four or five-star football recruit. It hasn't produced a three-star recruit since 2013. There's not a single player from Vermont on the roster of New Hampshire or Maine. Not only is this not a big time football state, there's an argument to be made that it's actually the least big time football state.
Part of that is because hey, Vermont is pretty small.
Vermont's population is only about 624,000, which is less than the population of Portland, Las Vegas, or Oklahoma City. Among states, only Wyoming has fewer residents. There are fewer than a hundred high schools in the entire state, and only about 30 of them have high school football programs. It's also the only state in the Lower 48 that doesn't have a D-I college football program. The state's only D-I institution, the University of Vermont, only has a club team.
It's a hockey state. Or a basketball state. Or a skiing state. Or uh, an ice cream state. But the lack of football tradition might also give them more flexibility to try something unique. And at the high school level, Vermont might just do that this season.
Vermont wants to try and play high school football this year.
As of today, Vermont is still planning on reopening high schools for in-person instruction, with Sept. 8 penciled in as the state-wide start date. The state also plans to have fall athletics, but with football, there's a catch.
BURLINGTON, Vt. (WCAX) - On Friday, Governor Phil Scott announced that not only will there be a high school fall sports season, but all sports offered in the fall season will be played, and that includes football.

However, of all the sports offered by the Vermont Principals' Association in the fall season, football is the only one that falls under the 'high impact' category established earlier this summer by the state. Those sports currently are only allowed to conduct no or low contact physical conditioning and skill building drills, and not play games.

If that condition remains in place when the state released further guidance for fall sports later this week, but, as the Governor stated, high school football will be offered this fall, what will the game look like on the field?
Administrators at every level have struggled with the very concept of playing football in a socially distant environment, since the nature of the game requires constant contact. Blocking, tackling and other essential football maneuvers are impossible to pull off without breathing on somebody.
But what if you got rid of all that stuff? What if you just played 7-on-7? That's apparently what Vermont will try to do:
But with traditional tackle football still listed as a 'high contact' sport by the state, the only one of the fall high school sports designated as 'high contact', and limited to only low contact conditioning and skill building drills, the Vermont Principals Association and school athletic directors and coaches had to come up with another way to play this fall or football could be left out completely, thus the plan for 7-on-7 touch.

Middlebury High School athletic director Sean Farrell is the chair of the VPA's football committee, and also serves as the scheduler for the Vermont Interscholastic Football League. He is heading the group working on the plan for 7-on-7 touch football this fall.
Now, 7-on-7 football isn't exactly new. It's the football of choice on the summer recruiting circuit. Women's flag football operates under similar rules.
Essentially, it looks like football if you get rid of tackling, all the linemen and the running game. Kind of like the football you played in the backyard with your buddies.
Is that going to be effective at preventing the spread of COVID-19?
It's probably safer than conventional football, but if close proximity to other athletes is the riskiest behavior in interscholastic athletics, 7-on-7 football doesn't remove all risk. After all, any linebacker or defensive back will closely defend any offensive player running a pass route, and even going in for a one-handed "touch" involves being close to another athlete.
Still, the bigger risk factor is probably being in school, not the actual sporting event. If a teenager is going to sit in an indoor space in relative close proximity to other teenagers for eight hours during the day, wouldn't that be riskier than the few minutes he might spend in close proximity to other athletes during football practice?
Changing the rules of football to accommodate different populations and situations already happens, and perhaps it should happen more often.
While trying to understand the prep football situation in Vermont, I came across this quote, which really stuck out.
The Green Knights joined the D-I ranks following the 2014 season when they captured their fourth D-II crown in five years. They have made the D-I playoffs twice, in 2016 and 2018, but were severely undermanned this fall, forced to forgo their Week 1 and Week 9 matchups.

"We would probably be looking at the same experience as last year," Brodeur said of Rice's slot in a four-division look.
Here, Vermont struggled to come up with the best way to align their high schools, as schools with smaller enrollments sometimes struggled to field competitive and safe teams, week in and week out. Sometimes even college teams with small rosters have to forfeit games.
Standard 11-man tackle football requires a fairly large roster size to safely play, and you need players of different sizes. A high school or D-III team dominated by 165-pound players won't just lose to a bigger school, they could get legitimately hurt. You need some athletes who are built like linemen.
At Vermont's level, there are lots of schools who simply don't have those bodies. That isn't just a Vermont problem. Across the country, high school football participation rates are dropping. If your school district or university enrollment is declining, and you aren't in an area where football is a cultural institution, and your schools' parents have legitimate fears about concussions, fielding a conventional team may eventually become challenging.
So why not field unconventional teams?
Maybe that means 7-on-7, but that's not the only option. Thirty states have at least one high school playing reduced manpower football. It's a long-standing tradition in rural areas across the country. In Texas and Montana, six-man football is the most popular. In Minnesota, South Dakota and North Dakota, nine-man football has dozens of teams. In the Great Plains, eight-man football is popular.
Reduced-man football hasn't taken hold in most of New England, but it could make sense for many smaller prep programs. A few colleges along the East Coast, most famously Army and Navy, play another variation of football called Sprint Football, which is conventional 11-man football with a 178-pound weight limit. Weight restrictions are commonplace in youth football. That may also be an option for schools with limited roster sizes. 
I grew up in Ohio, and I've watched a lot of rural, small-school high school football as a fan and as a reporter. I've seen a lot of schools trot out completely undermanned rosters with 30 or so kids, and it's clear reduced-man football would have created a better product and experience than trying to slog through with 11. I bet that's the case elsewhere too.
Without a vaccine, flag football, sprint football or tackle football with any number of players will present some COVID risk. But eventually, we're going to be playing football again. Should it always be the same kind of football?
Perhaps some colleges ought to consider other football models.
Whenever contact sports resume, nearly every college in the country will face challenging financial circumstances, perhaps for years. Everybody, from the largest research institutions to the smallest Bible colleges, will be looking at ways to trim costs.
FBS schools aren't likely to dive into flag football, but I wonder if for some smaller D-III or NAIA programs, it isn't at least worth considering. "Small ball" would lower equipment, travel and insurance costs. But for many lower-division schools, large football rosters are actually a feature, not a bug, since a roster of 100 football players means 100 more students who pay tuition, room and board. Gutting that roster to 45 could wipe out any savings.
But for specific colleges it might make sense. If there are ways to lower the startup costs of establishing a football program and realize the benefits of football (alumni and community engagement, student recruitment, for example) while minimizing some of the costs (financial maintenance and CTE risk), it's worth a conversation.
Switching things up might anger traditionalists. But the game is always evolving. What we watch on TV now would be completely unrecognizable to a college football fan in the 1920s, after all. 
So maybe Vermont school officials are on to something, and can offer a test case for athletes elsewhere.
And if it doesn't work out?
That's fine. In Vermont, that's what hockey, basketball and skiing season are for.
Thanks again for supporting Extra Points. If you enjoyed this newsletter, please consider subscribing here:
Questions, comments, business inquiries, hate mail and more can be left below, or emailed to MBrown@TheIntercollegiate.com, or to @MattBrownEP on Twitter.