Discover more from Extra Points with Matt Brown
A newsletter on the off-the-field forces that shape college sports
Over 6,000 subscribers
Hey, what's in a small school apparel contract anyway?
The Ohio States and Alabamas get millions of dollars a year, plus loads of other stuff, from the Nikes of the world. What do the Mid-Majors get?
Good morning, and thanks for spending part of your day with Extra Points.
Let's do the commercials at the end today, and hop right into the story, shall we?
I've written a fair amount about athletic department apparel contracts over the last few months. An apparel partner is typically one of the most important business partners a college athletic department has, after all. Those deals don't just provide hundreds of thousands of dollars worth of equipment, but they can bring in as much as millions of dollars in revenue annually.
Here, for example, are the payments due to Auburn from Under Armour, per the terms of their apparel agreement.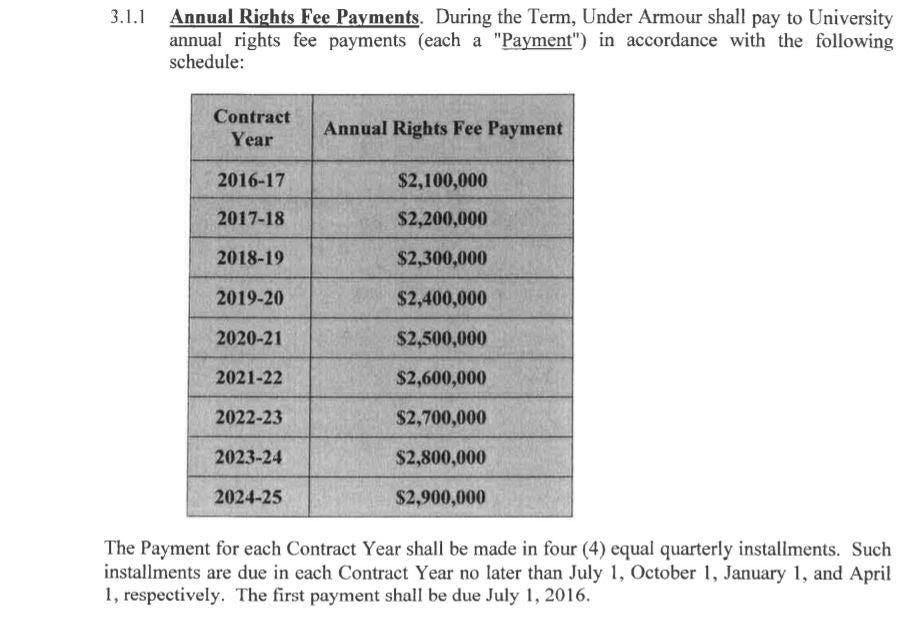 Other schools of Auburn's caliber earn even more (Nebraska, for example, pulls in more than $4 million from Adidas), but Under Armour also paid Auburn $10 million worth of stock (is that stock worth $10 million now? Uhhhh, probably not!). For an upper level P5 program, an annual cash fee of over $2 million is not uncommon. 
But it isn't just massive athletic departments that sign deals with Nike and Under Armour. To appropriate a Michael Jordan line, mid-majors buy sneakers too.
Now, smaller schools generally don't get fat rights fees from shoe companies. In fact, most mid- and low-major departments don't receive any cash. That's what I discovered after gathering dozens of apparel agreements from non-Power 5 athletic departments from the Mountain West, MAC, Atlantic-10, Horizon, SWAC, Big Sky, and more, and none of them included cash payments. Even programs that played FBS football, like UNLV, Georgia Southern and Kent State, didn't have any cash transfers in their agreements. 
Among the dozens of contracts I read, the only school that earned any cash from its shoe deal was Southern Illinois, which is paid a relatively meager $15,000 annually from Under Armour. When reached for comment, a Southern Illinois spokesperson said he wasn't exactly sure why that was, but since the Salukis were one of the first schools to sign an all-sports agreement with Under Armour, he hypothesized it might have been leftover from a previous contract.
Many of them did include incentive payments
If certain athletic programs hit certain performance benchmarks, then the apparel company pays out bonuses, either in cash, or in merchandise.
Many of these deals stipulate bonuses if an athletic department achieves certain athletic goals. For example, in Stephen F. Austin's UA contract, if the men's basketball team makes the NCAA Tournament, UA pays the school $5,000. If the Lumberjacks make the Round of 32, then they earn $10,000. If they win the whole dang NCAA Tournament, they make $200,000. Their FCS football team, women's basketball team and other Olympic sports programs also have specific performance incentives. 
At Nevada, Adidas will pay out $300,000 in cash if the football team somehow wins a national title (which, OK, fine), but they also pay out $50,000 if either the football or men's basketball team finishes in the final Top 25 rankings. There are also merchandise payouts if athletic programs hit certain benchmarks. 
But across the low majors, incentives are more commonly tied to additional product, rather than straight cash. At Eastern Michigan, for example, the school gets extra merchandise from Adidas if their spring programs hit certain academic benchmarks, in addition to winning conference titles: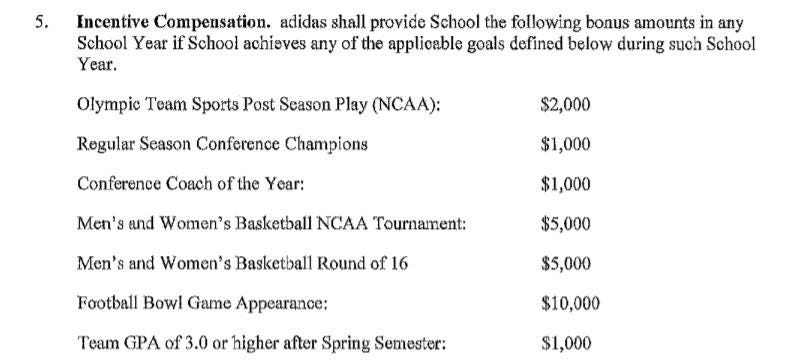 For comparison's sake, here is what the bonus payouts look like for Kansas in its deal with Adidas. Yes, that's not a typo, this contract really does specify what happens if Kansas football wins a national championship.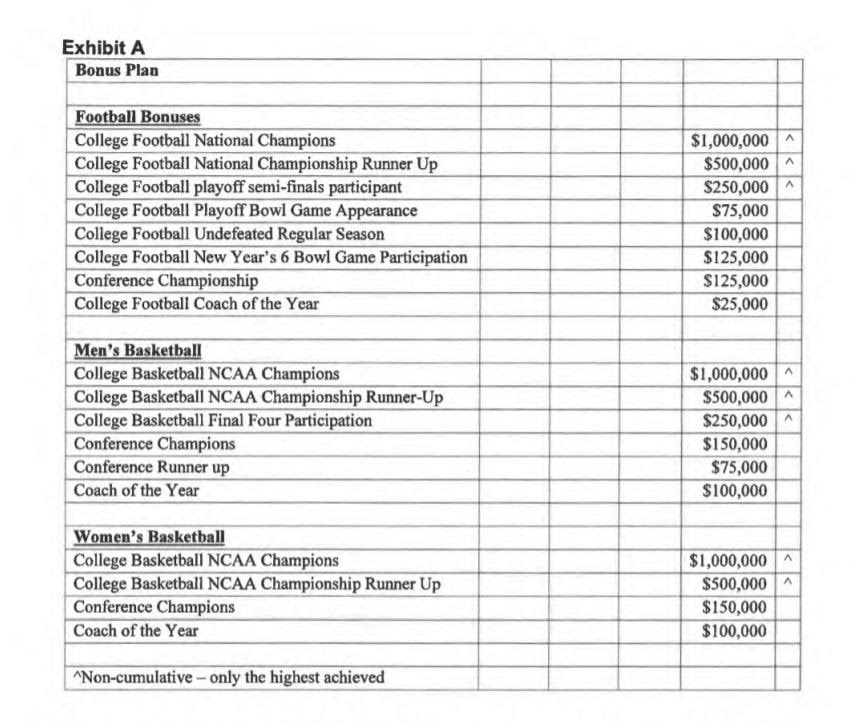 So if low-majors aren't getting cash, what's the point? Lots of equipment.
Even if you're a relatively small athletic department, you're going to need equipment. That means balls, shoes, helmets, travel bags, gloves and more, for hundreds of athletes across a department. If you just walked down the street and bought all of that stuff from your local Dick's Sporting Goods, it's going to cost a lot of money. Take it from me, a guy that recently spent a lot of money at Dick's Sporting Goods. 
Even the smallest D1 schools get hundreds of thousands of dollars worth of equipment, plus discounts on buying additional stuff. At the low end, that might be $100,000 worth of apparel and equipment (Prairie View A&M), to $3 million at the high end for a mid-major, like at UNLV. 
Judging from the contracts I evaluated, an athletic department would likely be able to discount anywhere from 35 to 50 percent off Manufacturer Suggested Retail Price (i.e, what the item would go for in a regular sporting goods store) or equipment needs beyond their guarantee. The size of the discount varies by school, product type, and sales volume.
On paper, this arrangement makes sense for both parties. If Nike shells out a gazillion dollars to sign an Ohio State or Alabama, they know they're going to be able to sell jerseys and all sorts of licensed apparel to consumers. When they sign South Dakota or Sacramento State, that's probably not the case. But Nike can still count on six figures worth of sales to that school's athletic department. Anything they're able to pick up on the consumer end is a bonus. And for the school, well, they still save thousands and thousands of dollars on equipment. 
As for the players? Well, I think you know how this goes at this point. 
A lot of the other fine-print sort of stuff is the same, from big school to small school.
Whether the shoe deal is for Texas or Texas Southern, some of the requirements are the same. If a school wants the free stuff from a major apparel company, it needs to agree to exclusivity agreements. Adidas doesn't want to see a school wear Nike socks with its shoes, after all. Schools can't also cover up or alter the logos of their apparel without risking financial penalties, or even the termination of the contract. That's called "spatting," and it's a big no-no. Even the smallest schools specifically prohibit spatting, and for the bigger schools, you might see complicated litigation procedures that lay out penalties if schools get caught doing it. Here's what the Adidas contract for Kansas says about that: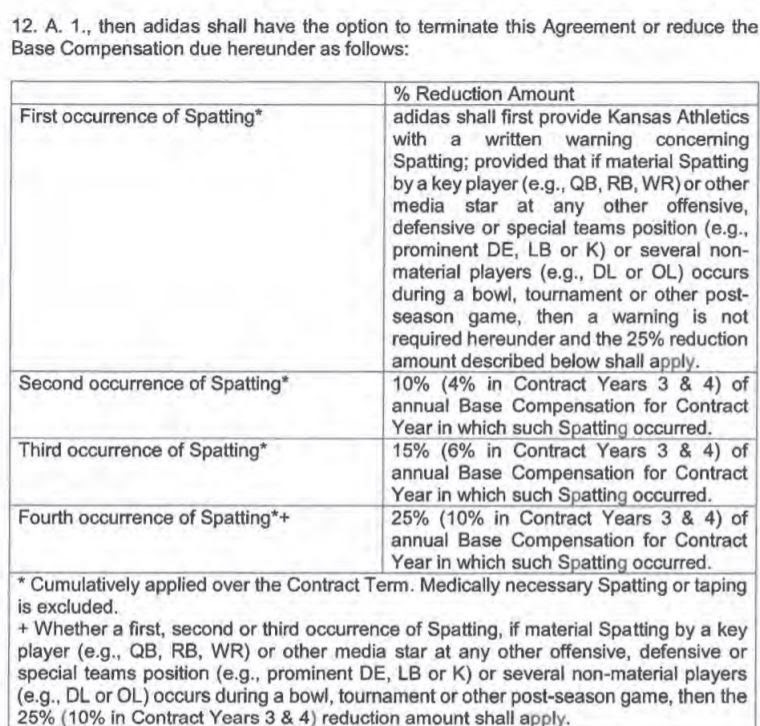 Whew!
Different schools might work out other additional benefits. At Northern Kentucky, for example, Adidas agrees to work with the school to support an annual charity golf tournament that benefits the athletic department, while the school gives Adidas signage in the arena and mentions the brand over the PA system during games. It's common, even at the low-major level, for coaches to appear in promotional events for the apparel company. Under Armour asks for an ad in the school's official media guides, schedule cards and camp brochures. 
But there are still other big differences. Like what happens if the NCAA drops the hammer on you.
Let's take Northern Kentucky, for example. If the school gets in trouble with the NCAA, Adidas could cut the value of this entire deal in half, or just drop it entirely.

That's really strict! Adidas appears to be the entity that determines whether an NCAA penalty is strong enough to warrant blowing the entire deal up. Language this strict isn't anywhere to be found in a major-college deal. Let's compare this to say, Nebraska's contract, also with Adidas:

Here, the big penalty is only if Nebraska gets into so much NCAA trouble that the Huskers are kicked off TV, and even then, it doesn't terminate the entire agreement.
There's also the matter of free tickets. Every deal I read, from the smallest low-major to the mighty SEC, requires the school to provide a few free tickets to sporting events for apparel companies. At a smaller school, like say, UW-Green Bay, those obligations are relatively modest. That Adidas contract simply calls for the school to provide four season tickets with two parking passes to all home men's and women's basketball games. 
At Nebraska? The requirements take three full pages, and include 22 "Premium Football Seats (best seats available)"; 100 corporate hospitality tickets to one home football game a season; 20 tickets to the men's and women's NCAA Tournament or NIT' 12 College World Series tickets; and more. 
Is this big money? No. Is it still important? Yes.
Even if a low major has a wildly successful athletic season and hits a variety of performance bonuses in its apparel contract, it likely won't represent a significant revenue source. Money from multimedia rights, broadcast rights and ticket sales will still be more important, and especially for smaller programs, direct institutional support and revenue from student fees will still be the biggest sources of athletic department funding. 
But that doesn't mean these partnerships aren't important. What apparel company a school partners with can impact recruiting, even at the lower echelons. The products these companies create still provide a visible and tangible way for the athletic department to interface with the world –– as I can assure you, even South Dakota fans have strong opinions about uniforms. While there may not be a lot of cash changing hands, equipment subsidies play a critical role in the financial well-being of an athletic department. 
And amid the current fiscal crisis in college sports, every little bit matters.
***
A quick reminder, Extra Points is a 100% reader supported publication. I sell no ads and chase no clicks. The only way I can justify spending 1,500+ words on apparel contracts of the Horizon League is because I know readers like you will help support it. 
The best way to financially support Extra Points is with a paid subscription. Just $7/mo, or $70 for the year, gets you four newsletters a week, full of original reporting and unique analysis on the off the field forces that shape college athletics. You can get your subscription right here:
That paid subscription also gives you access to bonus audio content, and to our chat room on the Moon Crew Discord Server. The Extra Points room gives us a place to discuss these newsletters, answer questions, and learn from each other in real life. That's a great deal, in my humble opinion.
The Moon Crew also has their own newsletter, which makes an excellent companion to this one. I really enjoyed this story from last week from my old coworker, Alex Kirshner, which helps explain how you, viewer at home, can figure out where the football is going, before the ball is snapped. 
Finally, I offer student and institutional discounts to Extra Points. If you want to use these newsletters in your sports business, communications or media class, or for your department, please drop me an email, and I'll be happy to set up a special discount for you. 
Any other article ideas, public records, business inquiries and more can be sent to MBrown@TheIntercollegiate.com, or to @MattBrownEP on Twitter.

The Intercollegiate and Extra Points are proud to partner with the College Sport Research Institute, an academic center housed within the Department of Sport and Entertainment Management at the University of South Carolina. CSRI's mission is to encourage and support interdisciplinary and inter-university collaborative college-sport research, serve as a research consortium for college-sport researchers from across the United States, and disseminate college-sport research results to academics, college-sport practitioners and the general public. You can learn more by visiting CSRI's website.